The Great Hop
Thank you to everyone that made The Great Hop a huge success!!
Listen each weekday for a change to win your children's entry into The Great Hop on April 2nd with W&L Subaru at the Susquehanna Valley Mall. Your child could find the golden egg that will give your family A Year of Family Fun and Knoebels Amusement Resorts! Scroll down to see the details and specific contest rules.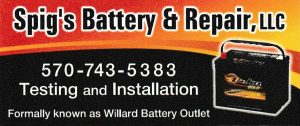 The Great Hop Contest Rules
On April 2, 2023, 94KX and 100.9 The Valley will be hosting an Easter Egg Hunt at Susquehanna Valley Mall in Selinsgrove starting at 2:00 PM sharp. There is no cost associated with the event. Listeners MUST qualify to gain entry to the event by listening to  94.1-WQKX and 100.9 The Valley weekdays between the hours of 6AM-6PM. Children between the ages of 3-10 are eligible to qualify on air. There will be three different "egg hunting" levels: one for children ages 3 to 4 years old, and one for children ages 5 to 7 and one for children ages 8 to 10 years old.
There will be approximately 5,500 eggs placed at the Susquehanna Valley Mall, each with candy or a small toys inside. There will be several eggs with other prizes inside and there will also be a drawing for year of fun at Knoebels Amusement Resort with a value of $700. Three eggs from each age group will contain a qualifying "golden ticket" for the Knoebels fun for a year.  There will be ONE winner of A Year of Fun from Knoebels Amusement Resort.
Children will be able to get their picture taken with area business mascots, so families are encouraged to bring their cameras as well as a basket to collect their eggs. Meet your favorite on-air personalities and join us for a day of wholesome family fun!
The following rules apply specifically to this event:
Adults MUST accompany children to Susquehanna Valley Mall; no drop-offs.
Doors open at NOON for food trucks at the main entrance; register with qualifying ticket by 1:30 pm. Egg Hunt begins at 2:00 PM. Pictures with the Easter Bunny throughout the event!
Bring your own basket!
Only families who won entry to the Egg Hunt on-air between March 7, 2023 and March 31st 2023 will be able to hunt for eggs.
Families that have won entry on-air ONLY may participate. An entry ticket will be mailed and emailed to each individual family. No transfers. No additions. No exceptions.
The honor system will be used to separate children into age groups: please, no cheating.
Only children may hunt eggs – no adult participation allowed.
Children MUST be between the ages of 3 and 10 to qualify for the egg hunt
Children will be separated into three age groups: 3-4, 5-7 and 8-10.
Three eggs per age group will contain a "golden ticket" to qualify to win the Knoebels Amusement Resort fun for a year. A winner will be chosen randomly from those 9 qualifiers.
Each qualified child will receive a $20 Knoebels Ride Voucher booklet just for participating compliments of Knoebel's Amusement Resort.
All other prizes will be distributed evenly between the eggs in each age group; Sunbury Broadcasting Corporation reserves the right to make the final decision regarding any winning/winners of all prizes.
By participating, families grant Sunbury Broadcasting Corporation, its representatives and employees the right to take photographs, audio, and/or video recordings in connection with the above-described event and authorize transferees to copyright, use and publish the same in print and/or electronically.
Sunbury Broadcasting Corporation may use such photographs, audio, and/or video with or without name and for any lawful purpose, including for example such purposes as publicity, illustration, advertising, social media and Web content.
All other general 94KX contesting rules and 100.9 The Valley contesting rules apply.
These rules may be updated at any time at the discretion of Sunbury Broadcasting Corporation.Rules updated 3/8/2023