Amy Knight (3 – 7 pm)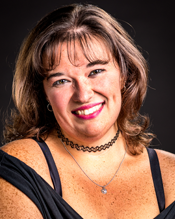 I was born and raised in Erdman, a town of about 50 people– but I'm pretty sure they were counting the cows in that estimate. A place where getting behind an Amish buggy is a completely legitimate excuse for getting home after curfew, the "auction" is THE place to be on a Friday night, and the Great Gratz Fair is the biggest event of the year…
My love of broadcasting got a weird start. The movie "Twister" came out when I was a kid, and suddenly becoming a meteorologist became my life's goal. Realizing that I detested math, and chasing storms in tornado alley MIGHT make my mom worry a bit, I decided that being the next Chuck Rhodes on ABC27 might be a safer choice. At 15, I decided to start dabbling in radio to get my feet wet, right here, at Sunbury Broadcasting Corporation… and the rest is history!
I got my Bachelor's from Susquehanna University (Go River Hawks!) and then my Master's from Syracuse University in Television-Radio-Film. I interned at Clear Channel Syracuse in commercial production/voiceover work, which was definitely the best part of my grad school experience. But that year I learned how much I hated cities– I couldn't click my heels fast enough to get back to Central PA, there really is no place like home.
Radio isn't my day job anymore, and I've had my share of odd jobs– I was a nurse's aide, an adjunct professor, a personal wine advisor, and NOW I'm working for "the man" as a government employee by day–and a radio girl by night! So when I'm on the air, I've pulled the same 9-5 you have earlier that day, and it's time for me to let loose! When I'm not at the radio station, I'm very active with local theater groups, travel, camping, and I'm part of a West African Drumming group that performs in local festivals from time to time. No kids, but I do have two purring furbabies… Sony KO Kitty (who I brought home from the radio station), and Abraham "Abby" Winkin'.