Movie Mondays on 100.9 The Valley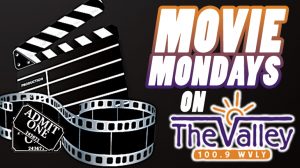 100.9 The Valley has your chance to win a movie night for 2 from The Campus Theater in Lewisburg!
2 tickets, popcorn and soda are YOURS just for listening while you work. Winning makes Mondays just a little bit better, right?!
While you work, listen for your cue to call-in! When you hear your cue, be caller #1 at 1-800-729-1009 and you're a WINNER, just for keeping 100.9 The Valley on all day long. Let's go to the movies!
One winner per household, per month. May not win more than one prize in 30 days. All general contesting rules apply.