Listen Live
Listen to The Valley 100.9 anywhere in the world!
Our New V7 Player for Windows PC or Mac –
CLICK HERE
 If you experience issues with the V7 Player, try our original V6 Player –  CLICK HERE 
(Internet Explorer not supported with either player)

Download our FREE Android APP – 

CLICK HERE 

–
Download our Free Iphone APP – 

CLICK HERE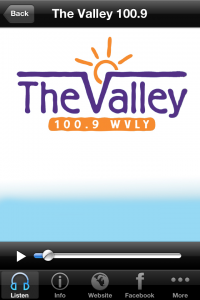 Now you can also listen to The Valley on your iPhone/iPad, Android, Blackberry or Palm device with the Tune In Radio app. Visit your device's app store for the free download!